10 Nov

| Special selection for Christmas time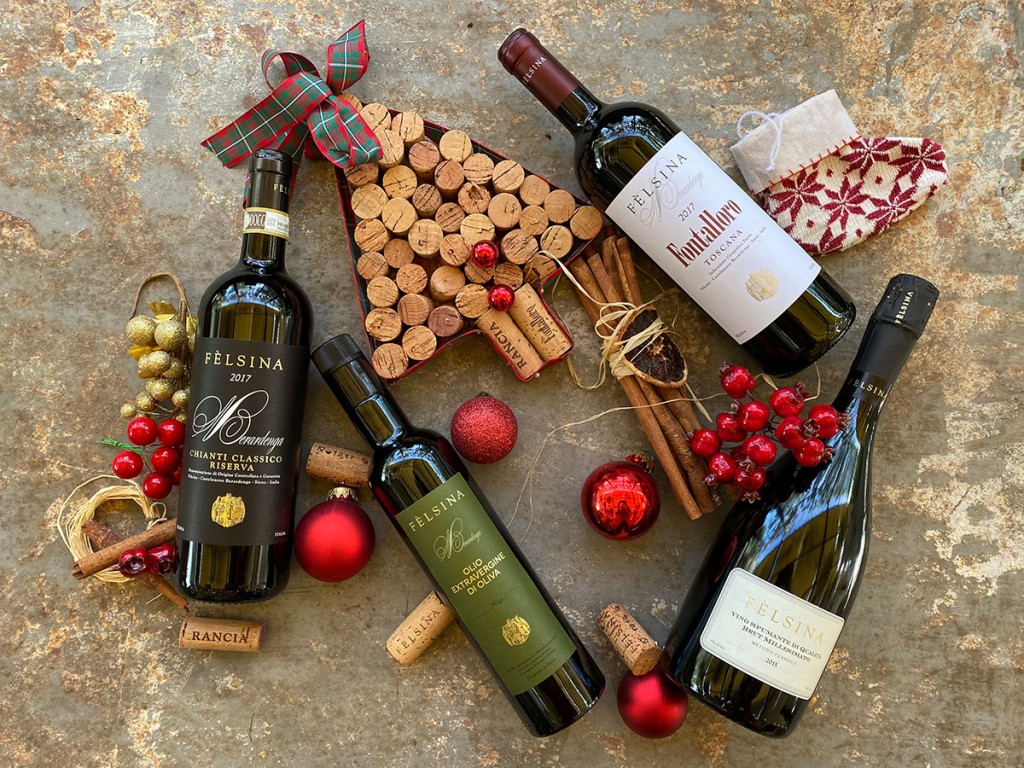 Special selection for Christmas time 
Whether you're planning a dinner for the family or a more informal lunch, choosing the right bottles to pair with during Christmas time is an important part of creating the perfect experience.
If you are looking for a wine suggestions to complement your holiday meal, check out our special selection that are sure to enhance your Christmas gathering.
Spumante Brut Millesimato 2015
Shows the essence of Sangiovese (60%) enriched with the aromatic flavor of Pinot Noir (20%) and supported by the acidity of the Chardonnay (20%) aged for 48 months on the yeasts. Intense on the nose, with ripe fruit and delicate notes of almond and hazelnut. Full-bodied, and multi-layered. The finish is long with a citrusy note.
Deliciously paired with smoked salmon and herb butter.
Extra Virgin Olive Oil Berardenga harvest 2020
Blend selected from 4 olive-varieties (Raggiolo, Leccino, Moraiolo, Pendolino) it stands out for the remarkable intensity of its bitter and peppery flavors, beautifully balanced with spice and herbaceous essences. It is the perfect accompaniment to Mediterranean dishes, vegetables, red meats, aged cheeses.
Chianti Classico Riserva Berardenga 2017
a 100% Sangiovese, selection of the best grapes from our Chianti Classico vineyards in Castelnuovo Berardenga. Spicy nose with notes of blossoms, wild berries. Notes of spice and crisp fruit on the palate, with supple tannins. Ideally paired with a fresh homemade pasta with ragout sauce.
Fontalloro 2017
100% Fontalloro is the most representative expression of Fèlsina's Sangiovese.
The grapes are selected from vineyards straddling the border between Chianti Classico and the Chianti Colli Senesi. Nose complex with notes of dark fruit, tobacco, licorice. Full body and powerful with elegant and velvety tannins, rich structure and long finish. Optimum cellar life in all vintages.
Recommended with: rolled and stuffed roast-beef with mushrooms
These bottles will also make a perfect gift or holiday present.
Contact here for a mail-order and have this selection delivered directly to your front door!
Special offer 10 bottles + 2 free
Delivery deadline by Christmas : November 23rd 2020.
For further information: 388 8047352 – welcome@felsina.it