28 Jan

| Mono-varietal olive oil & food pairings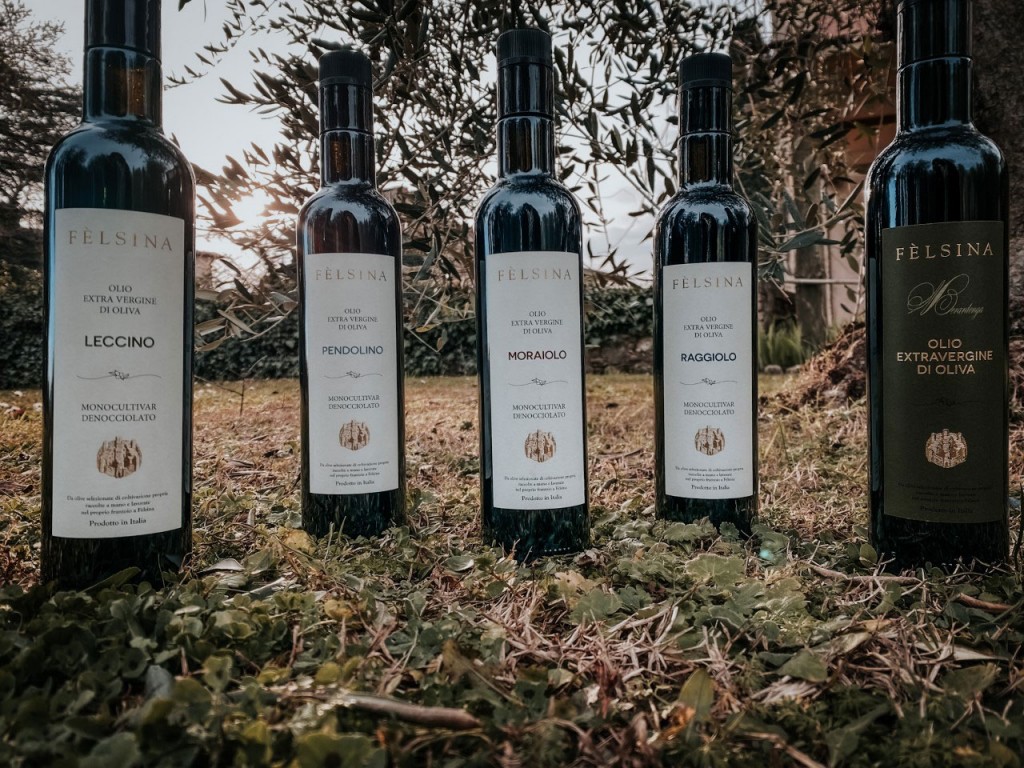 The 2020 olive oil campaign for Fèlsina will be remembered as one of the most generous in recent years and of excellent quality for our mono-cultivar extra virgin olive oils.
From the manual harvest of the individual varieties, with the extraction of the pulp of olives (without stones) is born «the oil according to Veronelli». The olives are harvested separately according to the best time of ripeness and then crushed within four hours.
The oil is stored at a constant temperature in stainless steel containers, without contact with the air, and vacuum-bottled at the time of order. The result is a unique and identifiable oil, which respects the characteristics of each variety of olive.
The experience of tasting the mono-varietal oils is even more complete if paired with the right meal. How to find the right combination for each of the 4 cultivars? Discover our tips!
LECCINO
It has an intense and bright green color. The nose is clean and fresh, shows herbaceous notes of wild herbs, chives and celery leaf. In the mouth the entry is subtle and releases hints of almond and aromatic herbs in the finish.
Try it with: codfish with potato cream and confit tomatoes.
PENDOLINO
A precious and delicate variety, it takes its name from its hanging branches, it is the pollinator of olive groves. The oil, with its typical bright pale green, is delicate and refined. The nose shows hints of fresh almond and hazelnut. In the mouth the entry is sweet and delicate, then develops a delicious spicy pepper and curry.
Try it with: maltagliati pasta with black cabbage, pecorino cheese and toasted almonds.
MORAIOLO
The oil is complex and impressive with a deep green. The nose is reminiscent of artichoke, thistle, wild and mediterrean herbs, fresh almond. On the palate it is rich and velvety, the note of artichoke returns releasing a persistent and moderately spicy finish.
Try it with: legume and cereal soup.
RAGGIOLO
Also called "Correggiolo", an ancient variety among the most cultivated in Tuscany. The color is green with deep and intense nuances, on the nose shows intense notes of fresh grass, rocket and artichoke. In the taste it is superbly balanced and complex, shows spicy black pepper and artichoke, with medium bitter and spicy sensations in the finish with long persistence.
Try it with: grilled steak with rosemary.
MULTIVARIETAL BERARDENGA
A blend that integrates and enhances the diversity and uniqueness of each variety. Deep green in color, it stands out for the remarkable intensity of bitter and spicy notes beautifully balanced with spicy and herbaceous essences.
Try it with: the classic bread bruschetta with fresh tomatoes.
Contact us for further information! welcome@felsina.it